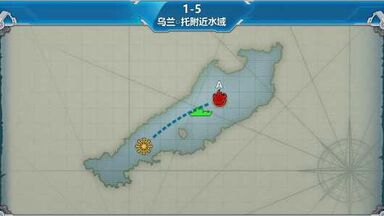 Real world Terrain

In fact, it is not Ulaanbootar but Khovsgol Lake, located at the north of Mongolia which close to the border of Russian. Wait, How do our ships get to there?
Branching
There's only one route!
Strategy
Quest
Description
Reward
Others
Devil in Sea near Ulaanbootar
challenge 1-5 10 times
233
233
233
233
Equipment: A package of Latiao
Enemy Fleet Strength
Others
YOU WILL NOT GAIN ANY SHIP OR EXP IN THIS BATTLE
At the first time you pass this map, a rarity of 6* ship (Sükhbaatar) will send to you by the email
After you have challenge this map for at least 3 time every day, a extreme powerful ship Sükhbaatar MKII which have 999HP will randomly appear after a warning instead of the 10HP Sükhbaatar which originally there.You can challenge her if you want, and you will receive a mighty bucket as a gift
Warning
Community content is available under
CC-BY-SA
unless otherwise noted.