Disclaimer: This special page is dedicated to inform all non-mainland China Warship Girls players regarding the conflict between Patch Games Inc(派趣科技). and MoeFantasy(幻萌). Warship Girls Wikia group is currently unaffiliated with MoeFantasy(幻萌), Patch Games Inc.(派趣科技) or Paiyu Technology(派娱科技).
Apparently, the game-developing company (MoeFantasy 幻萌) and game-distribution company (Patch Games Inc. 派趣科技) of Warship Girls (战舰少女) are having conflicts. According to posts on Weibo(新浪微博) and screenshots of QQ chats, employees from MoeFantasy claimed that Patch Games Inc. had refused to pay MoeFantasy profits earned from Warship Girls this year due to several reasons, while employees from Patch Games Inc. questioned the validity of MoeFantasy's statement and argued that MoeFantasy had failed to comply with terms and conditions stated in the contract signed by both companies.
As representatives from both companies presented contradicting statements, the truth is yet to be revealed, and NO statement has been officially issued or confirmed. As of right now, the two companies are apparently preparing for legal actions; representatives from MoeFantasy promised that they will do their best to preserve all game data.
Feel free to post your inquires here. We are more than willing to assist you.
According to MoeFantasy (幻萌), Patch Games Inc. (派趣科技) has not released any official response regarding the current situation, and MoeFantasy has lost all communication with CEO and managers of Patch Games Inc.
Warship Girls (traditional Chinese version) will be available next week for players in Taiwan/Hong Kong. This version of Warship Girls will be published by MoeFantasy(幻萌) and is not affiliated with Patch Games Inc. (派趣科技)
Players will not be able to make any in-app purchases yet in the Traditional Chinese version.
As of right now, please DO NOT download any version of Warship Girls in AppStore (except in mainland China Appstore). Patch Games Inc. (派趣科技) has violated contract signed with MoeFantasy(幻萌) and published the oversea version without MoeFantasy's permission. Personnel from MoeFantasy said that they will be taking actions to take down these illegally published versions as soon as possible.
Please REFRAIN from making in-app purchases.
The Great Construction Event has begun; however, according to employee from MoeFantasy (幻萌), Patch Games Inc. (派趣科技) has illegally tampered game data and opened the event without MoeFantasy's permission. Personnel from MoeFantasy claimed that MoeFantasy was not informed about the new update, and only 3 out of the 13+ ships in the original plan were released. Bugs may occur in game as this new update was not fully tested before it was published.
There has been rumors around Weibo(新浪微博) and Tieba(百度贴吧) regarding MoeFantasy's current situation, that MoeFantasy has lost access to the game server and has only backed up all game data up to July 8th, 2015. This rumor has not been confirmed by any personnel from Patch or MoeFantasy. However, participation in the Great Construction Event will still be at your own risk.
The errors in the illustrations of Colorado-class battleships are not fixed. Although the illustrator has submitted the fixed illustrations to MoeFantasy, MoeFantasy was unable to make any changes before Patch illegally published the new update.
Please DO NOT equip your Colorado-class battleships with your own equipment.
A couple payers have recently noticed a bug: all equipment equipped on Colorado-class battleships would permanently disappear after the player reload or re-enter the game.
Patch released a new statement in the game, promising to reward all players with 200 diamonds and 1000 diamonds extra if the player is able to find and report a bug.
An explanation regarding in-app purchases:
Some players have discovered that, starting in as early as February 2015, all profits earned from Warship Girls' in-app purchases were made payable not to Patch Games Inc(派趣科技)., but to a new company named Paiyu Technology (派娱科技).
There are multiple conspiracy theories regarding the suspicious actions of Patch and Paiyu, although none has been confirmed by any official personnel from Patch, Paiyu or MoeFantasy. To protect the interest of all players of Warship Girls, we, once again, highly recommend all players to refrain from making in-app purchases until everything has been resolved.
A few side notes:
The CEO of Patch Games Inc. released a statement on Weibo that, in order to focus on the development and maintenance of Warship Girls, Patch will no longer be the publisher of ChuFeng(雏蜂), a not-yet-published new game that will be handed over to another publisher. Once again, multiple conspiracy theories have developed, but none has been confirmed.
MoeFantasy has created an official Weibo account (@幻盟网络) and will be using it to release all official statement from MoeFantasy in the future.
1. Name Change for all Japanese Warships
Edit
NOTE: We will NOT change the translation of Japanese ships in accordance with the game at mainland China server. Names of all Japanese warships on Warship Girl Wikia will use conventional English translation. 
Without prior notice, Patch changed the name of all Japanese (J-country) ships from Simplified Chinese to English due to "certain reasons". All names contained obvious spelling errors. Patch previously claimed that they were pressured by the Ministry of Culture of People's Republic of China and were forced to modify all Japanese warships and equipments.
Due to historical relation between China and Japan during World War II, the Ministry of Culture of PRC was known to be particularly sensitive to all content that pertains to World War II Japan in media and published work. However, it is not clear on whether Patch has delibrately spelled the name of Japanese warships wrong due to this reason.
2. Public Testing of TW/HK Server Delayed
Edit
The public testing of TW/HK Server has been postponed, with no further detail given. It is not clear on whether the delay was due to technical or legal issue. Currently, access to TW/HK Server of Warship Girls is invitation-based.
3. Current Situation of Warship Girls
Edit
Patch Games. Inc (派趣科技), distrubutor of Warship Girls, has refused to provide MoeFantasy (幻萌网络) with profits earned from in-app purchases of Warship Girls starting as early as February 2015. Personnel from MoeFantasy has revealed the dispute to public through Weibo (微博) in early July, marking the beginning of an series of conflict between the two companies. In response, personnel from Patch questioned the validity of MoeFantasy's statement and argued that MoeFantasy had failed to comply with terms and conditions stated in the contract signed by both companies.
Unable to receive any profit, MoeFantasy refused to provide mainland China server of Warship Girls with any further game updates after version 1.3.7. As a result, on July 8th, Patch banned MoeFantasy's access to mainland China server and illegally distributed Warship Girls to oversea regions, which, according to MoeFantasy, is "a serious violation of the contract". Later, MoeFantasy announced the launch of the TW/HK server, a new server that will be maintained by MoeFantasy itself. MoeFantasy promised to "do their best" at preserving game progress.
Running the game without MoeFantasy, Patch illegally launched the Great Construction Event in mid-July, and, according to personnel from MoeFantasy, released only 3 out of the 13+ planned ships in the event. A few players have also noticed that all in-app purchases, starting in as early as February 2015, were made payable to another company named Paiyu Technology (派娱科技) instead of Patch or MoeFantasy. At this point, most players have turned their support to MoeFantasy.
On July 17th, both Patch and MoeFantasy released their letters of attorney to public through Weibo, preparing to take legal actions if necessary. Letters of Attorney from both sides have contradicting statements over the duration of the cooperation and distribution rights of Patch and MoeFantasy. Patch has also stated that they "promise to protect the interest of all players and properly maintain Warship Girls".
As of today, the dispute has not been resolved. 
1. Letter of Contract Termination
Edit
MoeFantasy released a contract termination letter on Weibo, officially declaring the end of its partnership with Patch. According to Article 94 of the Contract Law of the People's Republic of China, MoeFantasy holds the right to terminate its partnership with Patch for Patch's failure to comply with terms and regulations listed in the contract. Furthermore, MoeFantasy demands Patch to publicly announce the notice, process refunds for all players, and shut down all mainland China servers of Warship Girls within the next 60 days; failure to do so will be considered as a serious violation of law.
Along with the original image of the contract termination letter, MoeFantasy also announced in the same post that a Hong Kong-based company will be authorized to distribute the oversea traditional Chinese version of Warship Girls, and official oversea servers will be available soon. All players will be able to "use their original username and password to logon the new servers".
However, since the language used in the original post was ambiguous, it is not clear on whether all players' game progresses will be transferred to the new server. While it is commonly believed that MoeFantasy should be able to transfer all game data prior to July 8th (the day when Patch blocked MoeFantasy's access to the mainland China server), no official confirmation has been given.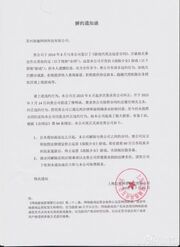 Patch refused to comment on MoeFantasy's action and once again promised all players that they will continue to update and maintain mainland servers of Warship Girls.
===2. Game Updates===
On July 24th, Patch announced that they are preparing to release new updates, featuring the new map Ex-01 as well as three ships—O'Bannon, U-505, and Indianapolis—that will be available for constructions or drops.
However, shortly after the announcement was made, many players discovered that Patch used the illustration of William D. Porter and labeled it as O'Bannon. Although the error was soon fixed, Saru, artist of William D. Porter and O'Bannon, confirmed that Patch was never authorized to use these illustrations in the game.
1. Public Testing
Edit
Public testing of TW/HK servers has begun. The first server participating in the public testing is Hood. All players may use their original username and password to logon the game. According to players from the original Hood server, all game progresses up to July 8th have been preserved. 
Players from the original Hood server will be able to continue their game progress; players from other servers can logon to the game, but they will not be able to access their game progresses until their original server begins public testing. 
Although not comfirmed officially, it is commonly believed that players from official iOS and Android servers will be able to access their game progresses as soon as public testing of their original servers begins. For players who belong to server Zero, their game progresses will be restored manually.
2. New Translation for HuanMeng: MoeFantasy
Edit
Warship Girls Wiki will now use the name MoeFantasy to replace the original translation "Illumoe" for HuanMeng(幻萌网络). 
Attached is the screenshot from an anonymous player. Appeared in the screenshot is a traffic monitoring software, which tracks packets sent and received between client and server; it successfully discovered the destination of the packet
moefantasy.com
, which should be the server of the game.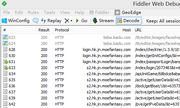 According to what we retrieved from WHOIS, the registrant of this domain is in Shanghai where Huanmeng locates.Therefore, we have evidence to believe that MoeFantasy will, in the future become official English translation of Huanmeng.
Patch released their own 1.3.9 version which includes new map "Ex-01" and three new ships. There was a display bug with this map, and people quickly found that it did not drop any ship at all even with SS win though it was fixed soon. The project leader of MoeFantasy also said that the new released ships have wrong attributes. It is unknown whether there may be other bugs.
Another big problem of 1.3.9 is that in the Construction ship UI, the word of "steel" and "ammunition" (in artistic font picture form) are in traditional Chinese and use the exactly same picture of MoeFantancy's TW/HK version. Many people beleive that Patch extracted them by reverse engineering of MoeFantacy's traditional Chinese version. The custom service of Patch on phone describes that it is a typo.

Some players went to the physical address of Patch which is listed in their website personally. Their headquarter in Suzhou and development department in Shanghai is completely empty, however their operation department in Hangzhou still have staffs inside. 

A person who describe himself as a customer sercie of Patch on baidu tieba says that Patch is contacting the illustrators directly, and offering double pay than MoeFantacy but restrict them to have any relationship with MoeFantacy. However the payment will be splited into 5 parts. Most well-known illustrators rejected it angrily. 
HangZhou PaiYu Inc.(P1) registered WSG2 and got government approval. It is fairly obvious where the mainland server is heading in the future. 2015/08/07 Transfer for Zero server started. The default transfer destination is HMS Hood. For all other transfer destinations, Goeben will be lost. If there is no request made to save the Hood server character, it will be overwritten. Ships P7 released after 7/8 (Colorado, Maryland, West Virginia,Shiranuhi, O'Bannon, Indianapolis, U505) will not carry over. All mails will be lost, it's best to claim them before the transfer. Players need to contact cs@moefantasy.com for transfers. After a successful transfer, all quest and map progress will all be reset. The 1k daily resources for zero server is cancelled. This is the only real-time transfer across all servers. IOS Prinz Eugen is up at the same day.
Traditional Chinese server is down for its first maintenance to resolve severe lag and disconnection issue. MoeFantasy's official Weibo claims that they have been receiving DDOS attacks from unknown sources, DDOS intensity reached 1.5GB/s.
A good chunk of WSG mainland server players reported in Baidu Tieba that there has been a severe cellular data usage problem for the past few days. A screen shot showed that WSG mainland client consumed 1.1GB of cellular data, and several others showed cellular usage of 100~500Mb.
WSG normally consumes less than 5Mb per day, and mainland server just got their clients updated on July 30th(android) and August 7th(IOS), meaning the 100+Mb could not have been the accumulation over a long period of time.
Same night, MoeFantasy's unofficial Weibo showed a screenshot of DDOS intensity reaching 32GB/s.
Combining the abnormal data usage and the DDOS, some players guessed that Patch has been using Mainland Server's players' devices as mules for the DDOS attack.
Some players used packet-sniffers to try and track packets mainland client send out, but since the DDOS intensity decreased drastically after this "cellular data stealing" became the center of attentions on Tieba, players are unable to detect large amounts of packets sent toward MoeFantasy's server.
By August 20th, players analyzing source codes of the client came up with the conclusion that the abnormal data flow was caused by a bug in the client, but it was not related to the DDOS attack MF has been experiencing.