Enhancing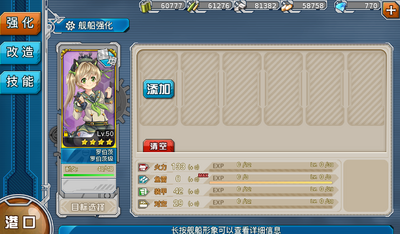 Enhancing is the act of improving a ship's Firepower, Torpedo, Armor and AA stats by expending other ships and is important in strengthening a ship and eventually unlocking skills. Each ship is worth a certain amount of enhancement experience which when used in enhancing fills the target ship's stat experience. Once a bar is filled the ship gains one point in that stat and remaining experience will keep rolling over to the next levels up until its maximum enhance-able value.
The experience required to level up is tied to the size of the ship and experience provided is generally tied to the size and type of the ship. As an example a starter Destroyer might only need 10 experience in a stat to earn a stat point whilst a battleship might require 30. A Destroyer that's enhanced with a Battleship might earn several points in multiple stats in a single go whilst a Battleship will only see a slight increase to their stat experience.
Up to 20 ships can be used to enhance a unit at a time but unless you're enhancing a battleship you'll want to do it in small increments for maximum efficiency.
There is no failure mechanic, units used for enhancing will always provide the maximum amount of exp they're worth.
Equipment on units used in enhancing are automatically unequipped and placed in your arsenal.
Modification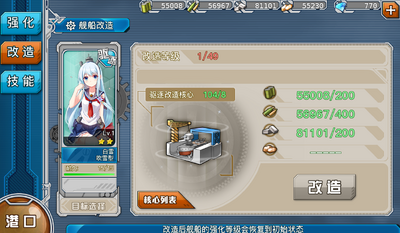 Modification is the act of upgrading a ship to a stronger version of itself through the expenditure of Cores and Resources once hitting a certain level. Each ship with an available modification will require a specific number and type of Cores associated with the kind of unit they are, Destroyer Cores, Cruiser Cores, Battleship Cores, Carrier Cores and Submarine Cores all of which can be earned from your daily campaigns and as a reward from one of three daily type hunt quests.
Once modified a ship can begin the process of earning and improving her skill.
Modification will remove all enhanced stats of the ship but they will start at a higher base level in all stats and have a higher enhance-able value.
Modified units will come with new equipment some of which can be quite powerful and difficult to get through other means. Any previously equipped items will be placed in your arsenal.
Some modified units might change their type such as Ise and Hyuuga modifying to Aviation Battleships and/or gain inherent effects such as Tirpitz being able to use torpedoes.
Cores can also be exchanged on this screen for resources via the orange button which will bring up your core inventory. Tapping the blue button will let you define how many you wish to exchange and tapping the blue button now turned orange will sell them.
Skills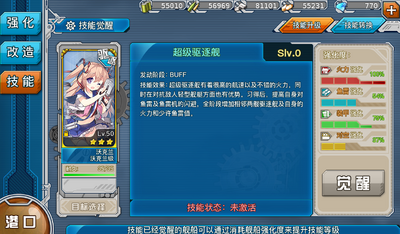 All modified ships and a few unmodified ships can unlock and improve skills which not only add a degree of historical flavor to units but also greatly improves not just the ship's abilities but the entire fleet with unique attacks, buffs and protection skills.
To obtain the skill, you must enhance the ship's Firepower, Torpedo, Armour and AA to their maximum level, then tap the "Awaken" button. You can see the enhancement progress at the right side. Awakening a skill will reset the ship's enhancement values to zero and increase her skill level by 1.
The process of enhancing and awakening can be done three times up to a maximum skill level of 3 where the skill will be at it's maximum effectiveness.
Defensive skills will always have priority over offensive skills. As an example Fantasque can always evade guaranteed hit abilities with High-Speed Maneuver, Kent and London can reduce fixed damage abilities with Overpenetration and Nevada and Oklahoma will sometimes register fixed damage abilities as crits triggering the damage reduction of their All or Nothing ability.
Second Skills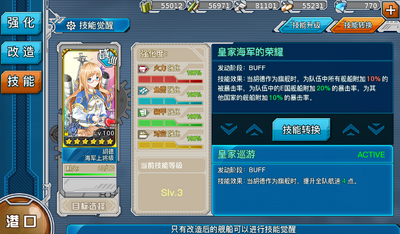 When modifying certain units you'll be prompted with a choice between a First (top) or Second (bottom) skill, this prompt is for all ships with a second skill. Second skills are a different skill that can be activated in place of a ship's First skill and will often have different requirements or effects. Second skills allow you to fine tune your fleet set up, dropping skills you might not meet the requirement for or find unnecessary.
Your choice in skills isn't permanent and can be changed at anytime through the second skill option in the Skill menu. Both skills share the same universal skill level but changing skills will reset the current enhanced stats to zero.
Types of Skills
Skills can be divided into 5 categories:
Buff: Buff refers to positive benefits that a ship provides to herself, other members in the fleet or both. Buffs are visually applied at the beginning of a combat as a green arrow and appear as a blue icon at the top of the screen, however certain effects such as recon and speed buffs are applied before combat for the sake of meeting routing requirements, outflanking and heading.
Buffs with the same name cannot stack, Saratoga and Lexington can't buff the same unit twice with Aeronautics Pioneer, but differently named buffs with similar effects do stack, Pinghai's accuracy buff and Helena's accuracy buff as an example.
Tapping the blue buff icons at the top of the screen will give you a tool-tip as to the current effects.
Debuff: Debuffs are negative effects imposed on an opponent(s). They are normally visually applied at the beginning of a combat as a red arrow and appear as a blue icon at the top of the screen. Certain debuffs however are applied as part of an attack.
Tapping the blue buff icons at the top of the screen will give you a tool-tip as to the current effects.
Debuff on Own Fleet:Exclusive category for William D. Porter... :D
Triggered: Triggered refers to an effect that is activated by certain conditions (e.g. attack, being hit) in the battle. Triggered skills are always linked to a trigger condition, and, in most cases, certain phases. The value of triggered effect can be varied.
Passive: Passive refers to inherent increases or reduction of certain attributes. These values are permanent, either shown explicitly on the attribute board (e.g. hp, luck), or hidden as so-called "illusive" attributes (e.g. critical hit chance, accuracy).
As an example Takao has a maximum base Torpedo value of 72, but when hitting Skill level 3 it's shown as 97, matching her passive 36% increase to Torpedoes.
List of skills
List of Skills
#
Ship
Modification level
Name
Type
Effect: Lv1/Lv2/Lv3
1001

Hood
75
Glory of the Royal Navy
Buff
As the flagship of the fleet, Hood increases

fleet's chance to be critically hit by an additional 5/7.5/10% E-country ships critical hit chance by 10/15/20% Non-E-country ships critical hit chance by 5/7.5/10%

Royal Parade
Buff
As the flagship of the fleet, Hood increases all ship speed by 2/3/4 knots when flagship.
1003

Ise
20
Air Fleet Expulsion B
Debuff
Ise decreases the hit chance of opponent's dive bombers by 10/15/20% during aerial attack.
1004

Hyuga
20
Air Fleet Expulsion T
Debuff
Hyuuga decreases the hit chance of opponent's torpedo bombers by 10/15/20% during aerial attack.
1006

Bismarck
75
Flagship Killer
Triggered
As the flagship of the fleet, Bismarck has 10/20/30% chance to attack opponent's flagship with a guaranteed hit plus a minimum fixed amount of 10/20/30 damage.
The Unsinkable Battleship
Passive
When Bismarck has 50% of her max hp or more reduce all taken damage by 4/6/8.
1007

Tirpitz
75
Lonely Queen of the North
Debuff
As the flagship of the fleet or in any position in World 6, Reduces enemy accuracy and evasion by 4/6/8.
1008

Nelson
50
BIG SEVEN
Triggered
In shelling stage, Nelson has 15/15/20% chance to attack 1/2/2 targets, inflicting 8/12/16% additional damage to targets.
1009

Rodney
50
BIG SEVEN
Triggered
In shelling stage, Rodney has 15/15/20% chance to attack 1/2/2 targets, inflicting 8/12/16% additional damage to targets.
Revenge
Buff / Debuff
Increases own firepower by 5/6/7%. Units attacked by Rodney suffer from Detonation reducing firepower by 5/10/15.
1010

Prince of Wales
50
The Atlantic Charter
Buff
Prince of Wales increases accuracy of all U-country and E-country ships by 3/5/7, and she receives double buff effect when placed as flagship.
Decisive Blow
Buff / Debuff
Increases own firepower by 2/3/4%. Units attacked by Prince of Wales are Crippled reducing armor and evasion by 4/7/10.
1011

Nevada
30
All or Nothing
Triggered
When crtically hit, Nevada has 20/35/50% chance to nullify the critical effect and reduce the damage by 20/35/50%.
1012

Oklahoma
30
All or Nothing
Triggered
When crtically hit, Oklahoma has 20/35/50% chance to nullify the critical effect and reduce the damage by 20/35/50%.
1013

Andrea Doria
60
Lucky Star
Passive
Andrea Doria gains a permanent 5/10/15 increase in luck. Increases firepower by 40/60/80% total luck when attacking and increases evasion by 40/60/80% total luck when defending.
1018

Renown
50
Final Glory
Buff
Renown gains stacks of 1/2/3 in firepower, armor, anti-air, hit, evasion and critical hit at each battle beyond the starting point. Boss node fixed to 4 stacks.
29-knot-Nelson
Buff
For the first shelling phase Renown will priority target large ships, have +8/9/10 accuracy and do +10/15/20% damage.
1019

Repulse
40
Dusk of Malaya
Buff
Repulse starts with 4 stacks of 1/2/3 firepower, armor, anti-air, hit, evasion and critical hit losing a stack at each battle beyond the first. Boss node fixed to 1 stack.
1026

Argus
35
Dawn of Air Warfare
Buff
Increases experience earned by all carriers by 2/4/6%. E-Country carriers get an additional 4/7/10%
1027

Langley
40
Aircraft Carrier Pioneer
Buff
In PVP Increase the experience earned by all carriers by +2/4/6%. The effects are doubled for U-country carriers.
1028

Ranger
30
Advanced Bomber
Passive
Ranger's dive bombers are 10/18/25% more effective, while her torpedo bombers are 50% less effective.
1029

Lexington
40
Aeronautics Pioneer
Buff
All planes on Lexington and adjacent CV/CVL/BBV gain 7/11/15% performance.
1030

Saratoga
40
Aeronautics Pioneer
Buff
All planes on Saratoga and adjacent CV/CVL/BBV gain 7/11/15% performance.
Robin
Buff
Increases own aircraft performance by +3/5/7% for every additional carrier, light carrier, armored carrier in the fleet not including Saratoga.
1032

Takao
45
Torpedo Reloading
Passive
Increase own total torpedo value by 20/28/36%
1033

Atago
50
Night Battle Flagship
Buff
Atago increase the fleet's torpedo values by 3/4/5% and each ship's recon by 1/2/3.
1034

Maya
55
Floating Anti-Air Fortress
Buff
Maya increased her own and adjacent ship's anti-air by 3/6/9. Maya also increases her own torpedo value by 9/12/15%.
1035

Chokai
45
Eighth Fleet
Buff
When flagship Chokai increases heavy cruiser, light cruiser and destroyer Accuracy by 4/5/6 and crit chance by 4/5/6%.
1036

Admiral Hipper
30
Ambush Camouflage
Passive
In shelling stage, Hipper has 10/20/30% chance to attack a destroyer with a guaranteed hit.
1037

Blücher
30
Mysterious Confidence
Passive
While Blucher has additional 20/30/40% critical hit chance in all stages, she also suffers additional 20/30/40% chance of being crtically hit.
1038

Prinz Eugen
30
Battlefront Defense
Triggered
Prinz Eugen has 50% chance to take the damage that should have been received by one of her adjacent ships, but also reduce it by 40/60/80%.
Phoenix
Passive
Increases Prinz Eugen's armor by 1 per 20/20/10 points of luck in the fleet total.


Increases Prinz Eugen's firepower by 1 per 20/10/10 points of luck in the fleet total.

1039

Wichita
43
Full Broadside
Passive / Triggered
Wichita has a permanent 8/12/16% increase in critical hit chance. When critical hit is achieved in shelling stage, her skill is triggered, doing an additional 10/20/30% critical damage.
1040

Quincy
40
High-speed Shelling
Triggered
In shelling stage, Quincy has 40% chance to deal 120/130/140% damage to target.
Flagship Killer (Accidental)
Triggered
Quincy has 10/20/30% chance to attack opponent's flagship with a guaranteed hit plus a minimum fixed amount of 5/10/15 damage.
1041

Tenryu
50
Expedition Convoy
Passive
Expedition yields 4/6/8% bonus resources when Tenryu is placed as the flagship of expedition fleet.
1042

Tatsuta
50
Expedition Escort
Passive
Expedition has 4/6/8% more chance towards Big Success when Tatsuta is placed as the flagship of expedition fleet.
1045

Isuzu
50
AA & ASM as One
Passive
Anti-air and anti-submarine equiment are treated as interchangeable ones to Isuzu, and 40/60/80% of AA and ASM attributes from equipment are added into each other.
1046

Yubari
60
Experimental Platform
Passive
Equipment on Yubari function at 130/145/160% of their base values.
1047

Königsberg
45
Search & Destroy
Passive
Increase crit chance by 4/8/12% against ships with a speed equal to or less than ship.

Increase evasion by 4/8/12% against ships with a speed more than ship.

1048

Karlsruhe
45
Search & Destroy
Passive
Increase crit chance by 4/8/12% against ships with a speed equal to or less than ship.

Increase evasion by 4/8/12% against ships with a speed more than ship.

1049

Köln
50
Search & Destroy
Passive
Increase crit chance by 4/8/12% against ships with a speed equal to or less than ship.

Increase evasion by 4/8/12% against ships with a speed more than ship.

1054

Chongqing
49
Anti-Air Camouflage
Passive
Chongqing reduces 40/60/80% damage received from opponent's air strikes.
1055

Omaha
42
High-Seas Patrol
Passive
Omaha has a permanent 5/7/9 increase in reconnaissance. She also gains 3/5/7% hit chance when attacking CL/DD/SS.
1056

Atlanta
40
Anti Air Defence
Buff
Atlanta increases her own and adjacent ship's Anti-Air by 10/20/30.
1058

O'Higgins
30
Rapid Firing
Triggered
In shelling stage, O'Higgins has 40% chance to deal 120/130/140% damage to target.
1059

Helena
30
Intelligence Analysis
Buff
Helena increases reconnaissance and accuracy of all ships in the fleet by 3/4/5.
Six-Inch Machine Cannon
Triggered
5/15/25% chance during night battle to fire at 2/2/3 different targets for 50% damage.
1060

Ninghai
50
Fleet Training
Buff
The whole fleet receives an additional 3/5/7% experience from battles when Ninghai is in the fleet.
1061

Pinghai
50
Target Indication
Buff
All ships below Ninghai receive additional 3/5/7 accuracy.
1062

Roberts
50
Fire Support
Passive
Roberts increases her firepower by 15/20/25%-30/40/50% and accuracy by 5/8/10-10/15/20.

The effect increases as the fleet's average speed drops.

1063

Abercrombie
50
Fire Support
Passive
Abercrombie increases her firepower by 15/20/25%-30/40/50% and accuracy by 5/8/10-10/15/20.

The effect increases as the fleet's average speed drops.

1064

Fubuki
48
Torpedo Squadron
Buff
When at least 4 Fubuki, Ayanami and/or Akatsuki class are in the fleet increase their torpedo accuracy and evasion by 3/5/7.

Also increases Fubuki's torpedo crit chance by 12/21/30%.

1065

Shirayuki
49
Bond
Triggered / Buff
During shelling stage, 30/40/50% chance Shirayuki will protect a Fubuki, Ayanami, Akatsuki class destroyer nulifying damage once per battle.

If Fubuki is flagship both Shirayuki and Fubuki gain 2/4/6 armor.

1068

Akatsuki
40
Forcible Scouting
Buff
In night battle stage, Akatsuki increases accuracy of all ships in the fleet by 4/7/10, but also increases the possibility of her being attacked by 40.
1069

Verniy
47
Phoenix's Guarding
Buff
Verniy provides 6/9/12 armor, anti-air and evasion for herself and the ship in front of her.
1070

Ikazuchi
30
Spirit of Torpedoes
Passive
Ikazuchi's torpedo strikes in closing torpedo strike and night battle stages have additional 12/20/28% chances to be critical hits.
1071

Inazuma
34
Accidental Collision
Triggered
Inazuma has 15/25/35% chance to trigger accidental collision, inflicting damage equivalent to half HP of the opponent's target to her target.
1072

Ayanami
42
Demon of Solomon
Buff
Ayanami increases her firepower, torpedo, accuracy and evasion by 10/20/30% in night battle stage, and her damage dealt is not weakened by HP depletion.
1073

Shikinami
44
Spirit of Torpedoes
Passive
Shikinami's torpedo strikes in closing torpedo strike and night battle stages have additional 12/20/28% chances to be critical hits.
1074

Z1
20
Leader of Zerstorer
Buff
Z1 increases firepower, torpedo and anti-submarine attributes of all Z-series destoyers in the fleet by 5/8/11%.
1075

Z16
40
Minelaying
Buff
Z16 increases accuracy attribute of all Z-series destroyers in the fleet by 6/8/10.
1080

Z31
50
Elite Zerstorer
Buff
Z31 gains a bonus of 15/20/25% to a different attribute each time when a Z-series destroyer is added into the fleet (including herself).

The attributes in order are armor, firepower, torpedo, evasion, accuracy and anti-air.

1081

Amethyst
60
Mysterious Taunt
Passive
Amethyst increases her chance of being targeted by 10/16/22% and evasion by 5/8/11%.
1082

Glowworm
35
Dauntless Strike
Triggered
Glowworm has 40% chance to trigger her skill, inflicting damage equivalent to 40/60/80% of her armor attribute to her target. It is a guaranteed hit.
1083

Javelin
40
Narrow Escape
Passive
Javelin has a permanent 5/8/11 increase in HP. She can also avoid one fatal damage in a battle. (HP has to be reduced to 1) This effect only triggers once in a battle.
1084

Juno
41
ASM Expertise
Passive
Juno gains 10/20/30% hit chance when attacking submarines, and increases 10/20/30% dodge rate when being attacked by torpedoes.
1085

Jackal
40
Damage Interception
Triggered
In shelling stage, Jackal has 20/35/50% chance to intercept the attack to the ship in front of her and nulify the damage once per battle.
1093

Gearing
30
Cold War Pioneer
Passive
Gives Gearing a permanent 4/6/8 increase to recon.

Increases firepower and anti-Air by 20/40/60% of total recon.

1098

Vauquelin
37
Contre-Torpilleur
Buff
Vauquelin increases her own and adjacent destroyer's firepower by 3/5/7, torpedo value by 2/4/6 and torpedo evasion by 15/25/35%.
1099

Fantasque
60
High-Speed Maneuver
Triggered
Fantasque has 15/20/25% chance to avoid all damage from an attack.
1105

Vanguard
75
Royal Yacht
Triggered
Vanguard gains stacks of 1/2/3 in armor, anti-air, accuracy and evasion at each battle beyond the starting point. PvP fixed to 5 stacks.

Increase Vanguard's exp earned from PvP by 5/7/9%

1108

Colorado
55
BIG SEVEN
Triggered
In shelling stage, Colorado has 15/15/20% chance to attack 1/2/2 targets, inflicting 8/12/16% additional damage to targets.
1135

London
39
Overpenetration
Triggered
London has 10/20/30% chance to reduce damage inflicted on her greater than 5 down to 5 in shelling stage.
1136

Kent
39
Overpenetration
Triggered
Kent has 10/20/30% chance to reduce damage inflicted on her greater than 5 down to 5 in shelling stage.
1141

Northampton
40
Support Escort
Buff
Northhampton increases her own and adjacent ship's evasion by 6/8/10
1142

Houston
40
Rapid Firing
Triggered
In shelling stage, Houston has 40% chance to deal 120/130/140% damage to target.
1143

New Orleans
42
Headless Horseman
Buff / Triggered
When undamaged, New Orleans provides CV/CVL adjacent to her with 6/8/10 evasion; when damaged, New Orleans gains 3/4/5% evasive rate.
1162

Yat Sen
62
Unshakable Will
Buff
Yat Sen increases the fleet's armor, evasion and anti-air rating by 3/4/5.

The effects are tripled for C-Country ships.

1183

Laffey
45
Fearless Against Kamikaze
Passive
Laffey's ability is based on her skill level. At Lv 1, her damage dealt is not weakened by HP depletion; at Lv 2, increase critical hit chance proportional to damage taken; at Lv 3, she is immune to damage from air strikes when severely damaged.
1197

U47
66
Raid on Scapa Flow
Passive
U47 has a permanent 3/4/5 increase in HP and 15/20/25% critical hit chance.
Wolfsrudel
Buff
When any G-Country U-boat is flagship increase the accuracy of all submarines by 1/2/2 x the number of submarines and critical hit chance by 1/1/2% x the number of submarines in the fleet.
169

Yukikaze
Auto
"The Miracle Ship"
Buff
Yukikaze absorbs luck from all five other ships in the fleet and transfers it into her own evasion at a rate of 1% evasion per 15/12/10 luck.

It is still unclear whether the luck of other ships in the fleet really become zero.

181

William D. Porter
Auto S.Lvl 1
Jinx
Debuff on Own Fleet
William D. Porter's presence in the fleet decreases luck of all friendly ships by 10/5/0. (The debuff has no effect when skill level reaches Lv.3)
298

Sükhbaatar
Auto
Fishing
Passive
Sukhbaatar has a permanent 10/20/30 increase in luck. When placed in the fleet, she has 10/20/30% chance to trigger her skill, getting better drops after the combat.

When skill is triggered, two drops are generated, the drop with higher rarity or the first one when the two have the same rarity is selected. (You will never know what the other one is)

303

Odinn
Auto
Cod War
Passive
When placed in the fleet, Odinn has 10/20/30% chance to trigger her skill, getting more common drops after combat.

When skill is triggered, two drops are generated, the drop with lower rarity or the first one when the two have the same rarity is selected. (You will never know what the other one is)