O'Bannon is a destroyer based on USS O'Bannon.
Introduction
O'Bannon (DD-450) is a Fletcher-class destroyer. In 1943, O'Bannon accidentally met Japanese submarine Ro-34. Since the distance was too close, her guns were unable to attack. O'Bannon's deckhands, not having side arms, grabbed a bag of potatoes onboard and pelted the submarine with them. Mistook the potatoes as hand grenades, the submarine's sailors were too occupied to throw them away from the sub This gave O'Bannon the opportunity to longen the distance and finally sank the submarine with depth charge. O'Bannon even received a plaque commemorating this potato incident. O'Bannon received 17 battle stars for World War II service, placing her among the most decorated US ships of World War II, while none of her crew was awarded the Purple Heart (Purple Heart: a medal awarded to those wounded or killed while serving).
Namesake
Named after Lieutenant Presley N. O'Bannon.
Attributes
Profile
Type
DD
Birthday
19 February

No. 180

Rarity
5
Nationality
U-Country
Class
Fletcher Class
Illustrator
Saru
Attributes
Construction/Acquiring
17
8/28
Battle of Middle Island E3 J and E4 D, G, H, K
0
7/22
Equipment
20/70
52
0

U-Country 5in Gun

40/85
24/54
0

A Bag of Potato

Short
6/16
0

N/A

35/75
37
0

N/A

More attributes
Disassembling
4/8/6/0
Enhancement
0/20/7/5
Consumption
15/25
Quotes
| Event | Quote |
| --- | --- |
| Acquisition | Hello, I'm O'Bannon, a Fletcher-class destroyer. Hope you will be as lucky as me. |
| Engagement | |
| Event | Quote |
| --- | --- |
| Acquisition | 您好,我是奥班农,弗莱彻级的驱逐舰。希望我的好运能分享给您。 |
| Engagement | |
Trivia
She has potato carried on her skirt, a.k.a Potato Girl ( 土豆 )
Illustration
She has the same kind of clothes as William D. Porter, since both of them are drawn by Saru. The stars on skirt may be the star of US national flag.
There are advanced antisubmarine equipment (potatoes) on her skirt.
Someone noticed that O'Bannon's eyes look like Vittorio Veneto:
O'Bannon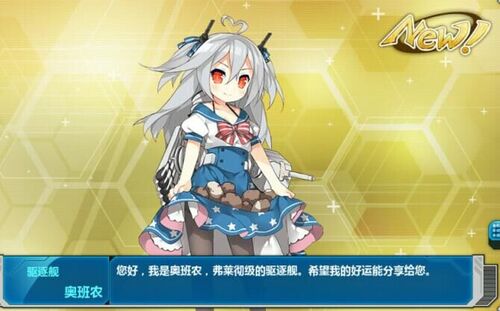 O'Bannon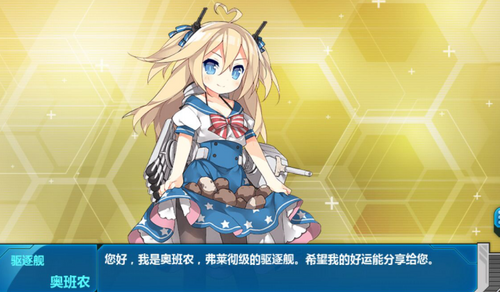 (Which one is fake?)
Luck
At first her luck was 21, which was about average level. (FYI: Laffey 45, Sullivans 32, Thatcher 15, other Fletcher-class 20~22, Gearing-class 20~25)
Later her luck was changed to 30, less than Sullivans, same as Washington.
On 10 December 2015 she became available in event maps and her luck was changed to 52, only 3 points less than Enterprise.
Rare Ship?
It's said that O'Bannon is much harder to get, compared with William D. Porter.
Players who cannot get O'Bannon in E4

But there are also someone who has O'Bannon already but still in search of William D. Porter.
External Links
Warship Girls
Svenska Marinen
Monitor
Sverige Class
Gustav V
Aviation Cruisers
Gotland Class
Gotland
Royal Netherlands Navy Koninklijke Marine
Light Cruisers
No Class
De Ruyter
Türk Deniz Kuvvetleri
Battlecruisers
Moltke Class
Goeben
CHILE Navy
Light Cruiser
Brooklyn Class
Brooklyn
Mongolian Navy Монгол улсын цэргийн
Transport
No Class
Sükhbaatar
Icelandic Coast Guard
Transport
No Class
Odinn
Royal Canadian Navy
Destroyer
Tribal Class
Haida
Royal Australian Navy
Destroyer
V Class (1916)
Vampire
Royal Thai Navy กองทัพเรือไทย, ราชนาวีไทย
Monitor
Thonburi Class
Thonburi
Community content is available under
CC-BY-SA
unless otherwise noted.