Saumarez is a destroyer based on HMS Saumarez(G12).
Introduction
Saumarez belongs to the emergency S-class destroyer in E-country navy force. This is a prominent destroyer, in Battle of the North Cape, Saumarez's torpedo hit Scharnhorst. In the naval battle on May 5 in 1945, her radar locked Haguro and went through dangers for torpedoing. Her action created opportunities for the rest of the destroyer, and eventually sank Haguro.
Namesake
Named after Admiral James Saumarez.
Attributes
Profile
Type
DD
Birthday
20 November

No. 174

Rarity
4
Nationality
E-Country
Class
S Class
Illustrator
無糖白蓮
Attributes
Construction/Acquiring
14
8/28
6-1, 6-2
0
7/22
Equipment
22/72
25
0

E-Country 4.7in Guns in twin mounts

36/76
22/52
0

 

Short
5/15
0

N/A

30/60
36
0

N/A

More attributes
Disassembling
4/8/6/0
Enhancement
1/22/7/0
Consumption
10/25
Quotes
| Event | Quote |
| --- | --- |
| Acquisition | Ah... Hi... I'm destroyer Saumarez... Although I'm not so strong. |
| Engagement | Since you've made the decision, please be nice to me. I'll work harder,too. |
| Event | Quote |
| --- | --- |
| Acquisition | 啊。。您好。。我是索玛雷兹号驱逐舰。。虽然不是很厉害 |
| Engagement | 既然做了这个决定,就请好好对待我哦。我也会努力的。 |
Trivia
The comment from Saumarez's illustrator:
She is an excellent student of a religious school, and she likes to missionizing her friend destroyers. In battles, she performs bravely with a faith to the god. Also, she is lucky enough.The equipment of her is fit to fulfill the task in the North Pole. The antenna on her head allow her to hear the oracle.
Saumarez received an unlisted update as part of the September 2016 event patch, upgrading her battle sprite to include unique animations. She became the first legacy sprite to be upgraded to the new "4.0" standard of battle sprites that first appeared with event ship rewards.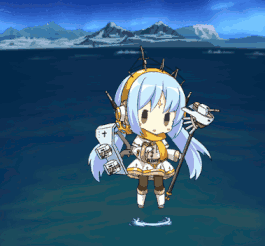 External Links
Warship Girls
Svenska Marinen
Monitor
Sverige Class
Gustav V
Aviation Cruisers
Gotland Class
Gotland
Royal Netherlands Navy Koninklijke Marine
Light Cruisers
No Class
De Ruyter
Türk Deniz Kuvvetleri
Battlecruisers
Moltke Class
Goeben
CHILE Navy
Light Cruiser
Brooklyn Class
Brooklyn
Mongolian Navy Монгол улсын цэргийн
Transport
No Class
Sükhbaatar
Icelandic Coast Guard
Transport
No Class
Odinn
Royal Canadian Navy
Destroyer
Tribal Class
Haida
Royal Australian Navy
Destroyer
V Class (1916)
Vampire
Royal Thai Navy กองทัพเรือไทย, ราชนาวีไทย
Monitor
Thonburi Class
Thonburi
Community content is available under
CC-BY-SA
unless otherwise noted.