Suffolk (萨福克) is a heavy cruiser based on HMS Suffolk.
Introduction
Suffolk was a ship in the Kent subclass of County-class heavy cruisers. On the 13th of April 1940 Suffolk participated in the Norwegian Campaign and provided support for the British pre-emptive occupation of the Faroe Islands. In 1941 Suffolk was a part of the Battle of the Denmark Strait and took part in sinking the German battleship Bismarck, landing multiple salvos on the battleship and tracking her for long enough so that other Royal Navy ships could intercept. Suffolk received a refit in 1942/1943, having one of her turrets replaced with additional AA guns. Suffolk then served with the Eastern Fleet in the Indian Ocean until the end of the war.
Namesake
Named after Suffolk, England, UK.
Profile
Profile
Type
Heavy Cruiser
Birthday
16 February

No. 237

Rarity
3
Nationality
English
Class
Kent Class
Illustrator
Rain Lan
Attributes
Attributes
Construction/Acquiring
49
34/54
6-4
6
26/41
Equipment
10/45
15
2

E-Country 8in Guns in twin mounts

30/70
42/72
2

 

Medium
13/48
2

 

0
32.5
0

N/A

More attributes
Disassembling
30/40/30/0
Enhancement
38/5/13/18
Consumption
35/70
Quotes
| Event | Quote |
| --- | --- |
| Acquisition | Heavy Cruiser Suffolk salutes you. As long as I am here, no one can escape my eyes. |
| Engagement | No one can escape my eyes, my heart is already your prisoner. |
| Event | Quote |
| --- | --- |
| Acquisition | 萨福克重巡洋舰向您致敬。只要有我在,没人能逃过我的眼睛。 |
| Engagement | 没人能逃过我的眼睛,我的心却已是您的俘虏了。 |
Trivia
Suffolk had the most commanders out of all County-class cruisers with 11 in total.
Suffolk was almost sunk in 1940 from German bomber attacks. One of her turret's magazines exploded and she was beached at Scapa Flow to prevent sinking. The detonated turret was the one that was refitted with AA guns.
Suffolk's quotes relate to her using her radars to track Bismarck through the Denmark Strait
Suffolk are called Quent(昆特) by Chinese admiral because of Gwent card in Witcher III, and also the Chinese name of Quency(昆西) and Kent(肯特) has a same word in it .Further more, Suffolk's illustration is really like a combination of these Quency and Kent.
Quency + Kent = Quent! (no)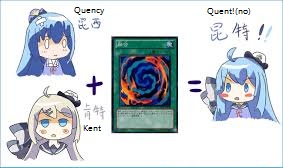 External Links
Warship Girls
Svenska Marinen
Monitor
Sverige Class
Gustav V
Aviation Cruisers
Gotland Class
Gotland
Royal Netherlands Navy Koninklijke Marine
Light Cruisers
No Class
De Ruyter
Türk Deniz Kuvvetleri
Battlecruisers
Moltke Class
Goeben
CHILE Navy
Light Cruiser
Brooklyn Class
Brooklyn
Mongolian Navy Монгол улсын цэргийн
Transport
No Class
Sükhbaatar
Icelandic Coast Guard
Transport
No Class
Odinn
Royal Canadian Navy
Destroyer
Tribal Class
Haida
Royal Australian Navy
Destroyer
V Class (1916)
Vampire
Royal Thai Navy กองทัพเรือไทย, ราชนาวีไทย
Monitor
Thonburi Class
Thonburi
Community content is available under
CC-BY-SA
unless otherwise noted.