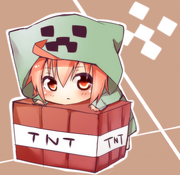 Helloworld is the administrator of Warship Girls Wiki.
Chinese.
iOS player.
Live in E point of map 3-4 (a SE Asia country with only one city).
Timezone is GMT+8.
Member of Warship Girls Wikia Editors Team.
(Favourite ship is Archerfish&Albacore.)
(However, married Akatsuki.)
Can speak Chinese, Japanese, English (most fluently -> least fluently).
Ships I Have
Modified Ships I Have
Community content is available under
CC-BY-SA
unless otherwise noted.