West Virginia is a battleship based on USS West Virginia (BB-48).
Introduction
West Virginia was completed in 1923. During naval exercises in 1930s, she performed very well and won several awards. West Virginia was hit by multiple torpedoes and bombs during the Pearl Harbour attack and was severely damaged. However, she received complete repair and modernisation at Puget Sound Naval Yard. Advanced AA guns and radar gave her a fresh new look. West Virginia participated in the Battle of Philippines in 1944. During the Battle of Surigao Strait, she had her revenge on the enemy fleet using their main guns together with her sister ships.
Namesake
Named after West Virginia, USA.
Attributes
Profile
Type
BB
Birthday
19 November

No. 110

Rarity
4
Nationality
U-Country
Class
Colorado Class
Illustrator
12cat
Attributes
Construction/Acquiring
77
80/100
04:40:00/Drop
16
71/91
Equipment
0
26
4

U-Country 16in Guns in twin mounts

16/36
35/65
4

 

Long
12/37
4

 

0
21
4

 

More attributes
Disassembling
50/60/60/0
Enhancement
80/0/71/23
Consumption
95/140
Acquiring Info
Normal chapters
Event chapters
1-
2-
3-
4-
5-
6-
DEC14
FEB15
MAY15
DEC15
1
2
3
X
4
X
5
N/A
N/A
X
Quotes
| Event | Quote |
| --- | --- |
| Acquisition | Woohoo~ I am the battleship West Virginia. You wanna let our enemies try the power of 16 in main guns? Please bring me on the field. |
| Engagement | A shining ring. I will keep it safely...not gonna give it away to anyone! |
| Event | Quote |
| --- | --- |
| Acquisition | 喲吼~我是西弗吉尼亞號戰列艦。如果想讓敵人嚐嚐16英寸主砲的威力,就請派我上場吧。 |
| Engagement | 這枚戒指亮晶晶的呢,我會好好珍惜的哦……誰要也不給! |
Trivia
The Colorado-Class were distinguished by their hexagonal turrets (you can also see it from the illu of her equipment). The illu of ships in the class, however, did not display such characteristic. The illustrator 12cat explained that he had corrected the illu and submitted it to Moefantasy. Since the dispute between Moefantasy and Patch has not been settled yet, the mistake still exists.
Correct illustrations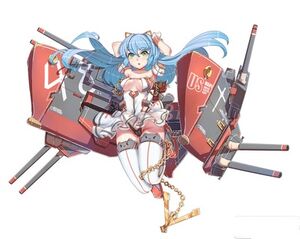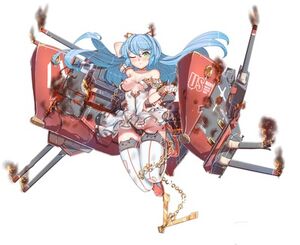 External Links
Warship Girls
Svenska Marinen
Monitor
Sverige Class
Gustav V
Aviation Cruisers
Gotland Class
Gotland
Royal Netherlands Navy Koninklijke Marine
Light Cruisers
No Class
De Ruyter
Türk Deniz Kuvvetleri
Battlecruisers
Moltke Class
Goeben
CHILE Navy
Light Cruiser
Brooklyn Class
Brooklyn
Mongolian Navy Монгол улсын цэргийн
Transport
No Class
Sükhbaatar
Icelandic Coast Guard
Transport
No Class
Odinn
Royal Canadian Navy
Destroyer
Tribal Class
Haida
Royal Australian Navy
Destroyer
V Class (1916)
Vampire
Royal Thai Navy กองทัพเรือไทย, ราชนาวีไทย
Monitor
Thonburi Class
Thonburi
Community content is available under
CC-BY-SA
unless otherwise noted.